1 Million Pound Anglo Saxon Hoard Unearthed by Skint Detectorist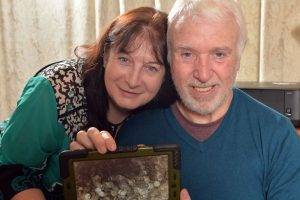 Skint metal detectorist Paul Coleman, was in financial trouble, his bank accounts were in the red and could rarely afford to even go out and hunt because he could not afford the petrol to go in his car. Until now!
Paul Coleman 59 has found one of the largest Saxon hoards in the UK. Experts speculate that the coins could have well been buried to protect them from Norman invasions just after the Battle of Hastings.
The discovery was made just before Christmas in 2014 and he has promised his wife a new house, something he would never have been able to afford previously as he was unemployed and in despair.
Paul will split the money once the hoard is sold with the owner of the land.
Dad of 2 nearly decided to pass up on the dig, as the petrol was going to cost him £45 to get there. However he persuaded a good friend and his son to join him sharing the costs of the fuel.
He quoted "I found a piece of Lead, which I just thought was junk. But as I looked again back into the hole I noticed a shiny coin. Then I lifted a larger piece of lead and saw row upon row of neatly stacked piles of shiny coins"
"By this point the excitement had kicked in, and I was grinning from ear to ear"
"I recently had remortgaged my house just to tide me over while I didn't have a job, but finding this hoard means I will never have to work again, it's a huge weight of my mind"
"I have decided that I am definitely going to be giving some of the money away, it's an unwritten rule between friends in the detecting world that if you are out with mates, and you get lucky, then you sort them out"
"I will be continuing to metal detect as a hobby, as I have never done it for the financial gain it's always been about the love and passion"
On December the 21st is when Paul Coleman made his significant find, at a dig organized by the "Weekend Wanderers Metal Detecting Club" Approximately 100 other people had turned up to the event to search the farmland in Aylesbury near Buckinghamshire.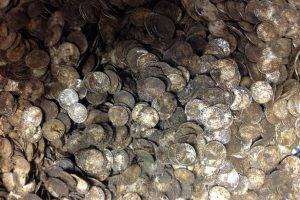 In total 5251 coins were found, many from the reigns of Ethelred the Unready (978-1016) and King Canute (1016-1035) the coins were in a lead box buried about two feet underneath the ground.
Experts have stated that the coins are in that good condition that they will command anywhere from £250 each bringing them to a total of more than £1,300,000!!
Rules and agreements set in place generally agree that the proceeds from any finds will be split between the detectorist who makes the find and the land owner. He added "That evening I met the farmer, he shook my hand and said thank you very much"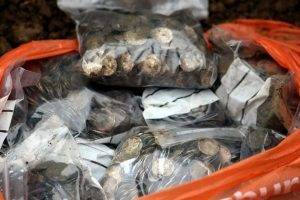 "He was smiling as it took 4 of us, an hour and a half to count the coins out on his table. My wife is really please for me but I think everyone will be a lot happier when the money is in the bank"
Paul Coleman is very happy about becoming something of a celebrity in the metal detecting world over night.
Father of 2, Grandad of 4 Paul has been detecting for about 40 years now and before this hoard discovery his biggest find was a coin worth a few hundred pounds. Both of his sons, Paul & Liam are also detectorists.
Before the museum can bid for the treasure a coroner will have to rule and declare it treasure trove.
The gentleman who organized the dig, Pete Welch, 56, had this to say " The atmosphere was electric as each piece of the box was moved from the ground, we saw layer upon layer of shiny coins. Everyone gasped as we all realized that this was something huge"
"Early indications lead us to believe that the hoard is something to do with the Norman Invasion in 1066"
"We believe a quick decision may have been made to hide the hoard of coins, as William the Conquerors army approached the Royal Mint in Buckingham"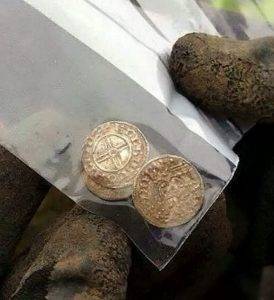 Pete Coleman believes the discovery is as equal in importance as the "Staffordshire hoard" which was discovered in 2009 and was valued at £3,900,000.
Anglo Saxon hoards and discoveries are far more rare than Roman hoards.
The most significant to date was found in 1938 when they discovered a 100ft ship filled with weapons, helmets, gold coins and silver mounted drinking hords in Sutton Hoo in Suffolk.