Minelab Safari Pro Review in 2023
Simply put, to summarise everything that I've written bellow is that the Minelab Safari looks sleek and feels sturdy having great precision for most of the tasks.
Simply looking at the Minelab Safari you instantly can see why the minelab detectors are one of the leading manufacturers in the metal detecting niche.
Everything about their products makes a statement of quality and professionalism and that's what I like about them.
Is Minelab Safari Pro waterproof?
No, only the coil is waterproof.
Minelab Safari Pro is out of stock most of the time in 2022-2023, so I can recommend you try Minelab Vanquish 540 instead:

Assembly of the machine, when it arrives, does not take a degree and can be done in just a matter of minutes. It's amazing considering that this is not a novice metal detector, that's what I like about Safari model, it's simple and it comes in just a few parts.
The coil, the lower shaft, upper shaft & control box and then the arm-strap.
You simply attach them all together and you are about ready to go, the arm-strap at the top is adjustable for your extra comfort also.
Not only this but you can move the arm-rest if it is in the wrong position for you.
I have arms like a T-Rex so this would be perfect for me.
The shaft length is something you can also alter, again for me this is a much-appreciated design feature, as I'm rather short.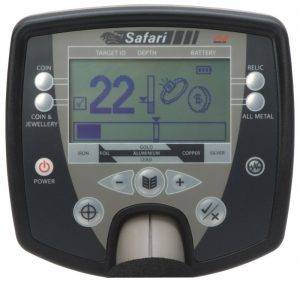 The control panel has an LCD display, and not to many buttons keeping it less complicated to navigate.
They are also positioned really well, which gives another nice touch to the design, letting you operate without having to spend to much time looking at the panel.
Buttons and Modes of the Minelab Safari
There are just 11 buttons on the Safari, which as I have said previously makes it less complicated to understand and operate. Along with an LCD display that is also easy to operate and read. The buttons are as follows.
Power, which of course switches on and off. Or by holding resets the detector.
Coin & Jewelery which puts the detector into the coin & jewelery mode.
Coin which activates the coin mode.
Pinpoint which turns the pinpoint feature on & off, allowing you to locate the exact position of a target.
Minus & Plus buttons, these are used in conjunction with the menu button, letting you navigate through the options and change settings.
Menu which accesses different stages and options of the Safari.
Relic activates the relic hunting mode.
All Metal which activates the all metal mode.
Noise cancel, searches for the quietest operating frequency.
Accept & Reject, if pressed while in detecting mode, accepts or rejects the located target.
The Minelab Safari's LCD screen displays a depth Gauge, allowing you to view the approximate depth location of the target.
A Target ID number which gives us a better clue of the identification of the target, it's displayed with numbers from -10 through to +40 different targets will bring up different numbers, and you can use this to discriminate against certain metal compositions.
There is a mode indication symbol which tells us which mode we are in and if we have modified a mode, and saved it.
Battery life icons.
Target Icons which indicates which lets us know what it is we are likely to have located, I have to say the reviews from around the internet are mixed on this, with some saying it works well but others not so impressed and finally a graphic indication bar used for discrimination patterns.
Features and Performance of the Minelab Safari
What I liked most about the Safari, was the fact it is a professional powerful machine that has also included features that a beginner could operate the machine with.
So it appeals to all levels of detectorists across the board.Accuracy is also something else that people praise the machine for.
You have your preset modes that are simply selected and away you go, but then you have the option to modify and customize.
The machine features an 11 inch, Ultra Lightweight Double-D waterproof coil (machine is not fully waterproof, however)
FBS Multiple frequency technologies which stand for full band spectrum the Safari simultaneously transmits, receives and analyses a full band of 28 frequencies. In human terms, this means that it combines multiple frequencies for the best metal detection output.
This provides the Minelab Safari with even more information about a target and the surrounding environment than is possible with other single frequency or BBS metal detectors.
The Minelab Safari allows us to adjust sensitivity, threshold, target volume, discrimination and much more giving us a more accurate hunt according to our terrain.
You can create custom modes and save them also which is really handy.
There are the standard preset modes which are already set up for different items also.
Pinpoint with audio and visual indicators for a more accurate detecting experience press the pinpoint button and the Safari will zone-in on the precise location of that precious target, allowing you to spend less time at each hole, and increasing your find rate throughout the day.
Around the world there have been so many amazing reviews for the Safari, it's hard to pick out what aspect of the machine people are most happy with.
Another important factor is that this model has many many reviews from buyers all over the web, which is another good factor when it comes to the Minelab Safari metal detector.
I have to say the power of this machine and depth capabilities for the price is astounding.
Pros and Cons of the Minelab Safari
Pros:
Amazing depth capability, reports of up to around 14″
A very accurate machine with good to trash ratios
Simple enough for beginners, good enough for pro's
Lightweight and robust, allowing a very comfortable day of detecting.
Cons:
Not fully waterproof although Minelab mentions it being OK in light rain.
Eats batteries (rechargeable are a must have unless you want to remortgage your house)
Videos of the Minelab Safari
Download Minelab Safari owners manual.
Final Verdict
For the price this machine truly can't be beaten in my opinion, the power and accuracy are equally as good as machines twice its price.
I wish they would have made it fully waterproof, they do state it's OK in light rain but it's not something you should really risk.
I feel like the Safari is one of the best machines on the market, just looking at reviews from around the internet and speaking to people who have used and still use the machine, there is so much praise and recommendation for the Minelab Safari.
If you are looking for quality or for a special gift you can buy it from here.
Sponsored link for Minelab Vanquish 540 since Minelab Pro is out of stock in 2023