Minelab Excalibur II review in 2022
Minelab Excalibur II is a great metal detector, aimed for the experimented users. that want to go underwater.
If you are not familiar with this brand or you are a novice, this is not a model for you to start with, because it's expensive and it's hard to get started with this model because it has a high learning curve.
I can recommend you other good metal detectors in here which you can start with.
When it comes to Minelab metal detectors, they always offer quality without exceptions!
You will have to read the user manual to get the hang of this device and yes, that's how complex this metal detector is!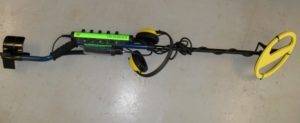 Is Minelab Excalibur II waterproof?
Yes, this model can be fully submerged underwater.
Appeareance of Minelab Excalibur II
It has a really interesting design, it has a fluorescent bodywork and you'll be able to see it in case you drop it underwater because it will be bright enough.
It is made from high-quality materials, even the battery consists of nickel metal hydride which lasts longer than the usual ones.
The coil is light for a steady balance and it is considered easier to use in any condition if it's on the ground or in the water.
Features of Excalibur II
Waterproof up to 66 meters or 200 feet
Enhanced performance in salt water
Multi Frequency 1.5 – 25 kHz
Automatic ground balance sensitivity
Waterproof Power Supply
Rechargeable Adapter
Minelab Excalibur II review:
There's only one downside with Excalibur II, there's no battery gauge which makes it hard to predict when you'll run out of battery. That's really unfortunate because everything else is really outstanding.
This usually comes with headphones and a car charger as well, so all you have to do is to pack it in your car and go metal detecting.
This is a really remarkable model, from most of the reviews I've read on the web, I've seen only 5 out of 5 stars given.
Sponsored link for this detector: