Fisher F5 Metal Detector Review – Guides And Rating
Fisher F5
model metal detector is made up of just a few components, and is super simple to assemble.
It is made up of the coil, lower stem, middle stem, the top stem and control panel and the arm rest.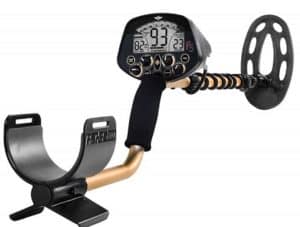 The stem parts lock into place with a collar design making the detector nice and secure, while also making it very sturdy and durable. There is no give in the shaft, and the coil fits nice and secure.
You won't feel like you have a toy in your hand or that you may break it. The Fisher F5 means business.
It's designed in two main colour's gold and black and features a non metallic telescopic bottom rod for height adjustment.
The Arm rest is adjustable so you can set it to your personal preferences. When the batteries are in place the machine weighs 1.38 Kg making it a very lightweight detector you will be able to swing all day without any real fatigue.
As standard it will include a 10 inch (25cm) open-frame elliptical concentric waterproof coil.
The control panel boasts a simple to use interface, with easy navigation, a large LCD display with target ID, and just a few nobs for changing your settings, and believe me because of the nobs it's super simple to adjust.
Buttons And Modes Of The Fisher F5
Although the Fisher F5 is a mid level detector, they have managed to keep the user interface simple enough for the beginner to navigate. So if you are a beginner with a bigger budget it's going to be a detector you will be able to use with ease.
5 buttons and 4 nobs are what make up the control box:
Phase lock Button – updates the internal ground balance settings.
Tone Button – selects the tone used to identify different metal compositions.
Notch Button – Adds or eliminates categories of metal.
Frequency Button – To be used if the F5 is picking up interference from other electronic signals, like other metal detectors, overhead cables etc
Pin Point Button – Activates the pin point mode of the detector allowing you to receive a more accurate location on the target.
GND Balance Knob – By rotating the knob you can change the ground balance settings, which helps cancel out false signals from the ground.
Due to the ground balance being controlled by a knob, it gives you a more accurate setting, and the machine includes 1000 to chose from.
Sometimes when searching in highly mineralized areas the ground will give of a "false signal" by using this knob we can eliminate that.
Gain Knob: Using the Gain Knob increases or decreases the signal given from the targets. For a maximum detection of smaller objects that are deep you would increase the gain, but to minimize the weakest signals we would decrease it. It has 20 different gain settings.
Threshold Knob: Depending on which mode you have selected at the time, the threshold can be used to fine tune the detector.
While in discrimination mode lowering the threshold will suppress sensitivity which in turn eliminates trash objects, and false signals from other electrical frequencies.
Increasing the threshold will amplify audio signal responses making smaller weaker objects much easier to hear.
If you are using the threshold knob in auto-tune mode you can use it in two different ways, setting it to positive values can help in reducing chatter, and setting it in negative values gives a "silent" search.
As standard Fisher have kept things nice and simple, while not sacrificing any power. You have your discrimination mode which has 4 different mini-modes, and all metal mode which also has 4.
While the preset search modes are always very handy for the complete novice, I have always found it better to fine tune the detector to the ground and area you are detecting in.
Performance Of The Fisher F5
Please bare in mind I have never had the pleasure of using the Fisher F5 so what I have found out about the performance is based on other reviews, and from word of mouth.
Generally speaking most owners of the Fisher F5 speak very highly of the machine, and the majority put this down to the simplicity.
Having complete control over the settings without having to select a "mode" or going into "menus" The Fisher F5 has a very fast recovery, which allows you to swing the detector medium to fast.
Depth wise again the Fisher F5 owners seem to be rather happy reports of up to 12 inches, although a couple did mention it may be worth investing in the 11 inch DD coil for the extra depth.
It's a machine you can setup with ease, just turn it on set your preferred ground balance and discrimination and away you go. The rest of the hunt in a nutshell can be controlled just by pushing one button or twisting one knob.
The F5 has a great processor speed which basically allows for the detector to recover FAST between signals, so you don't miss good signals that are close to trash signals.
It's worth noting that in more than one review, Fisher F5 owners have called it a "coin shooter" so if that's your things it's worth baring in mind. They have said it loves finding coins, and can give very accurate ID read out's on the LCD.
Pro's and Con's of the Fisher F5
PROS
Lightweight but durable.
Large accurate LCD display with Target ID.
Good coin-shooting machine.
Rapid recovery and fast processor speed.
Long battery life
CONS

No volume control.
Manual inaccurate.
Videos of the Fisher F5
Handy Fisher F5 links
Final Verdict of the Fisher F5
All in all the Fisher F5 is a simple to use, honest detector. For the price your getting a mid range detector which keeps up with the best of them.
If coin-shooting is your thing then this metal detector is definitely something you should consider.
It is a detector you can simply just switch on and hunt with however to use it to its full power and capabilities it's worth learning, and playing around with the settings. It's priced very fairly, and Fisher give a minimum of a 3 year warranty with the detector.
I would probably put this in the same league as the Garrett AT Pro or AT gold. As I said though I haven't personally used the Fisher F5 but it is a detector I would like to test out for myself, but based on the customer reviews and what a few friends have said, it's a very good mid level detector simple enough for a beginner that will give good performance and accuracy.
If you have a Fisher F5 Review then please feel free to add it to the comments section below, and I will add it.
[amazon box="B00S5BTK16″ template="horizontal"]