Best Pinpointer Metal Detectors of 2023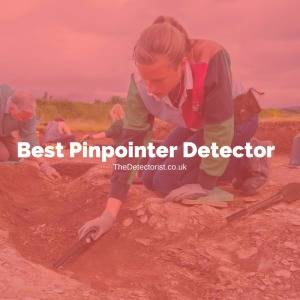 If you are quite serious about metal detecting, then you need more than a good metal detector to get you started. You are also going to need a very good pinpointer metal detector.
You have probably had the experience of locating something with your metal detector only to realize that you are not entirely sure where the buried item is.
Blindly digging for it can either lead to you digging for quite a while in the wrong place or worse damaging the object by accident.
Pinpointers come in handy because they help you to avoid these issues. Simply put, they are devices that help you to further identify the precise location of a buried or submerged object.
This comes into play once a metal detector has determined the general location of the item.
Best Pinpointer Metal Detectors of 2021
| Model name | Preview |
| --- | --- |
| Garrett Pro-Pointer at | |
| INTEY Metal Detector Pinpointer | |
| Nokta Pointer | |
| Garrett Pro-Pointer II | |
| Makro Waterproof Pinpointer | |
Types of Pinpointer Metal Detectors
There are two types of pinpointer metal detectors.
The first are those that come attached to regular metal detectors. They are quite common, especially with the top of the line metal detectors.
While the pinpointer is not apparent on these machines, you are able to access a mode that will help with your location endeavors.
This causes an increase in sensitivity in regards to the location of the metal.
There will be a constant tone until you are close to the object when the tone will get louder or more insistent. These, however, do have somewhat of limited capacity. This is because the search coil on the metal detectors tends to be quite large. As such, you are still looking at having to dig up a larger area.
The other type of pinpointer metal detector is the handheld variety.
These come separate from the metal detectors and are often quite small in size. As such, they are able to provide you with a narrower location.
There is a metal detector coil within the pinpointer.
Once the detector has made a discovery, the handheld pinpointer can then be placed in that area or in a hole. It will make a sound or vibrate when it is close to the metal object.
Choosing a Good Pinpointer
Now, not all pinpointers are created equal and some are clearly superior to others. So, how do you separate the great from the ordinary pinpointer?
A good starting point is to determine just how serious your metal detecting is.
Are you looking to go all in or do you prefer to start off with one of the basic models? If you are a dedicated detector then a higher quality pinpointer will be absolutely necessary.
If you have an inconsistent detector, a starter model will work just fine.
You will also need to consider is how you are most likely going to use the pinpointer.
For instance, do you tend to do most of your detecting in wet areas or where there is a great deal of water?
If so, you are going to need a pinpointer that is waterproof and can be submerged within a certain amount of water.
Personally, there are three main things that I would need to identify in order to discern whether a pinpointer was good or not.
The first is the durability of the pinpointer. If I'm going to be spending money on it, I want to make sure that it is going to last me a while. This is especially important if you tend to detect in rougher terrain. One small misstep could have a fragile pinpointer getting damaged.
The second is sensitivity. This is significant because a pinpointer typically comes into play when you are looking for smaller objects. Therefore, you need the pinpointer to be sensitive enough to detect these items. Typically, pinpointers operating at frequencies between 6.4 kHz and 20 kHz are the best. Along the same lines, an ability to cut through environmental disturbances such as soil type is also quite helpful.
Last but not least is just how long this pinpointer is going to last on a metal detecting journey. You are going to need one that can easily be recharged and that is going to hold out as long as you need it to. Therefore, being able to use your pinpointer for several hours is incredibly important for me.
These, as you can imagine, are not the only requirements.
Your audio options, weight, and accessories come into play when choosing the right pinpointer for you.
These, however, tend to be quite unique to the individual and will depend on your preferences.
Now that you are aware of what makes a good pinpointer, it is time to take a look at some of the best options on the market.
Here are a few models that you should seriously consider:
It seems that the Garrett brand can really do no wrong when it comes to metal detecting. This is especially apparent with the Garrett Pro-Pointer AT.
There are so many qualities that make this one of the best pinpointers to have.
For starters, it is incredibly easy to use!
There is just one button powering all of the functions.
Despite this, there are still plenty of elements to choose from.

This includes three sensitivity levels, Retuning, and the option for Silent Mode. One of the benefits of this pinpointer is that it has a fast retune option. This means that with just the press of a button, the pinpointer is able to ignore multiple interferences.
This pinpointer also comes equipped with a LED flashlight which can come in handy in darker areas or low light. There is also an alarm that will help you to relocate your pinpointer in the event that you misplace it.
It is also waterproof up to three meters and has a long battery life!
Features:
Weighs 0.2kg
Three sensitivity levels
Fast retune
LED flashlight
Waterproof up to 3 meters
Vibration mode available
Lost alarm
This is a good option for anyone looking for a durable and reliable pointer.
The Pro-Pointer AT works is a wonderful accompaniment to any metal detector.
Not only does it work to improve precision, it also has plenty of other options such as being able to detect items underwater.
The vibration option makes it easier to observe underwater detections. There is also a flashlight that helps you to such in smaller, darker areas.
Perhaps one of the more impressive features is the alarm that helps you to always know where your pinpointer is.
[amazon box="B00TADH9HA" template="horizontal"]
[amazon box="B01N4F373C" style="standard" template="vertical"]
The Intey Handheld Metal Detector has received rave reviews and it is easy to see why.
There is certainly a high sensitivity with this pinpointer as it capable of detecting a variety of metals of varying sizes, this includes coins and jewellery.
It is able to locate objects with an accuracy perimeter of 4cm.
This detector is also incredibly easy to use. The slim, ergonomic profile of the pinpointer makes it easy to hold, while the two buttons are simple to work.
Also the method of detecting is also fairly clear-cut.
The changing of the color of the LED lights as well as vibrations alert the user to the presence of metal.
The Intey detector is also weatherproof and can even be used in the rain.
A short portion of the detector can even be submerged in water for underwater detecting.
There is a small flashlight embedded within the pinpointer to help you see what you are digging more clearly.
Features:
Sensitivity with a range of 4cm
Able to detect different metals of different sizes
Location indication with light and vibration
LED flashlight
Semi-waterproof
Can work in the rain
If you are just getting started and want a trusty pinpointer to help you out, this will be a great option.
It is simple to manage, setup, and get started with it. There is almost no learning curve involved with the Intey Handheld Metal Detector.
It is easy to anticipate no problems with this metal detector at all. It is also quite durable and great for use in regions that receive a lot of rain.
Along with the pinpointer, you also get a shovel and carry bag.
You really do not need anything else!
[amazon box="B01N4F373C" template="horizontal"]
[amazon box="B00UVXAXF8″ style="standard" template="vertical"]
One of the calling cards of the Nokta Pinpointer Detector is that it is incredibly durable.
The detecting portion of the pinpointer can be encased in a hard shell cover that is replaceable. This protects the sensitive tip from damage.
One of the hard shell covers has a scraping blade to help with digging.
This pinpointer consists of a detector point that is able to pick up objects that anywhere in the 360° area around it. By placing the pinpointer horizontally, you are able to scan an even larger area.
This pinpointer has received a waterproof rating of IP67 which means that it is safe to use in the rain or even underwater as long as it is in limited depth.
You are able to choose from three different target alert options, including audio and vibration.
There is a large flashlight that helps you to see even in the darkest of areas.
Features:
Hard shell cover for detector
360° detecting capability
Waterproof IP67 rating
Flashlight
Audio and vibration target alert
If you are looking for a pinpointer that is going to last you quite a while, then this Nokta model is definitely the one for you.
Not only does it have a protective covering, it is also waterproof. If you are planning on heading to some dodgy terrain, this pinpointer really will come in quite handy.
A feature that I particularly like is that you can choose to use it upright on its side, depending on the range of your detecting.
This allows you to use this both as a small metal detector as well as a pinpointer.
To top it off, it is actually quite reasonably priced as well. You really are getting great quality for what you are paying.
[amazon box="B00UVXAXF8″ template="horizontal"]
[amazon box="B015HOY72A" style="standard" template="vertical"]
The Garrett Pro-Pointer II is a step up from the original Garrett Pro-Pointer AT.
This means that it has retained all that was good about the initial design with a couple of additional traits to boot.
The Pro Pointer II has the benefit of being more sensitive than its predecessor. It operates at an increased frequency of 12 kHz.
It is also more durable as it has been designed to withstand dust and other environmental hazards.
You still get to utilize the fast Retuning option, allowing the pinpointer to ignore interference such as wet sand as well as improve the size and distance judgment.
This pinpointer also boasts an impressive battery life which can range from eight to thirty hours, depending on the chosen battery. It also has that enviable alarm that is switched on if the pinpointer is left idle for too long.
The target recovery is indicated either with audible signals or vibrations.
This model, too, is waterproof up to 10 feet.
Features:
Operates at 12 kHz
Fast Retuning
Audio signals and vibration
Lost Alarm
Long battery life
Waterproof
Weatherproof
This pinpointer is one of the best for those who have a lot of experience with metal detecting.
They will find this pinpointer to be especially helpful. It is undeniably sensitive and now is a great deal more durable as well.
You can also use it underwater and it is equipped with features to help you determine when the target has been found underwater.
It is also ideal for long treks as the battery is sure to last for hours.
There is also no concern regarding losing the pinpointer as the alarm prevents this from happening.
[amazon box="B015HOY72A" template="horizontal"]
[amazon box="B00PSNKAU4″ style="standard" template="vertical"]
The Makro Waterproof Pinpointer is actually the cheapest option on this list.
Despite this, it is not lacking in features or in quality.
It is undoubtedly a useful and effective pinpointer. One of the high points of this pinpointer, of course, is that it is completely waterproof. Therefore, you can use it to detect items beneath the water's surface.
In addition to the audio alerts available, there are also vibrating alerts to help with underwater detection.
There are a great deal of options available with the Makro waterproof pointer, as there are four different sensitivity levels to choose from.
The pinpointer also boasts a 360° detection tip that increases its abilities to detect objects. It is also quite durable thanks to the replaceable hard shell case that comes along with it.
Features:
Waterproof
360° detection top
Hard shell case
Four sensitivity levels
LED flashlight
Audio and vibrating alerts
The great thing about this pinpointer is that you can get it for an entry-level price but it comes complete with so many quality options.
Not to mention, you also get so many accessories. This includes the two hard shell cases, one with a scraping blade. You also receive a Finds bag, belt holster, and a carry pouch.
The real benefit here is the durability that it offers, ensuring that you will be able to put the pinpointer through its paces.
The sensitivity levels allow you to fine-tune the settings depending on what you are looking for.
Further customisation options are available with the audio and vibrating signals.
[amazon box="B00PSNKAU4″ template="horizontal"]
[amazon box="B008QQG0DG" style="standard" template="vertical"]
Minelab is yet another powerhouse in the metal detecting industry and this Pro-Find Pinpointer Detector is a good indicator of this.
One of the perks of this pinpointer is the innovative audio response and vibration indicators. The signals that are sent out are proportional to the depth beneath which the target is buried. This helps to give a more precise idea about how close you are getting to the target, as you are digging.
The two signal modes are audio combined with vibrations or just vibrations alone.
The detecting end of the pinpointer can be submerged under water although the rest of the detector has not been deemed to be waterproof.
There is a LED flashlight attached to the pinpointer that makes digging in the dark a great deal easier.
If the pinpointer is inactive for longer than a period of eight minutes, it switches off to save power.
Features:
Submersible waterproof tip
Signals proportional to target depth
Two signal modes
LED flashlight
Automatic power off
As mentioned, one of the highlights of this pinpointer is the fact that it is quite good at informing the user how much they need to dig.
This prevents you from overshooting when you are looking for a buried item. This, along with the fact, that the detection tip can be submerged, makes this is a useful pinpointer to have around you on your hunts.
[amazon box="B008QQG0DG" template="horizontal"]
Rounding Up…
If you are looking for the best pinpointer metal detector, then you really can't go wrong with any of the options provided above.
Regardless of which one you choose, you can be assured that you are getting the highest in quality as well as features.
To determine which one really is right for you, you will need to first figure out what you are looking for in a pinpointer.
Then, it is simply a case of matching up your requirements with the choices that have been mentioned here.