Best Metal Detector For The Beach 2020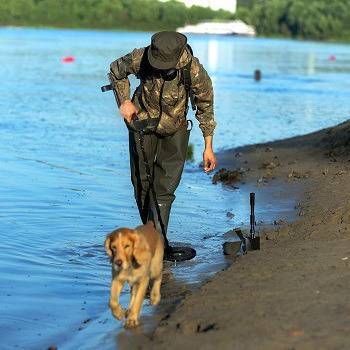 List with best metal detectors for the beach in 2020
| Model name | Model image | Shop |
| --- | --- | --- |
| MineLab Excalibur II | | |
| Garrett AT Pro | | |
| Minelab CTX 3030 | | |
| Garrett Sea Hunter MKII | | |
Guide To beach metal detecting
A beach is divided into two regions – the area that is continuously dry and the area that is frequently soaked by the waves.
In most instances, you will probably be able to comb the dry portion of the beach with a regular metal detector.
However, as you may encounter a great deal of trash, it is probably best to have a detector that is a little more discerning than most.
The tricky part is the wet part of the beach.
Here, the soil has been saturated with salt, water, and is probably composed of black sand as well.
This means that you are going to need a metal detector that is waterproof and can withstand the salinity of the water.
Black sand is sand that is heavily mixed with other minerals and iron. Due to the high conductivity of iron, this can make it a problem for regular metal detectors.
Prior to considering buying a metal detector, you will first need to decide which type of metal detecting you plan on doing.
If you are not sure or would like to have the best of both worlds, you are going to need a detector that works well in all conditions.
As a budding treasure hunter, it is a good idea to read the reviews that other people have written regarding metal detectors you might be considering.
This can easily be done on online retail sites such as Amazon.
Here, you will be able to compare between other people's experiences and what you are looking for in a beach metal detector.
Now that you are aware what beach metal detector shopping encompasses, it is time to see what some of the best options on the market are.
Best metal detectors for the beach reviewed
Below, you will find a list of metal detectors that have proven to be quite useful when metal detecting in these specific conditions.
MineLab Excalibur II Metal Detector


The MineLab Excalibur II is a metal detector that is often recommended by professional metal detectors. This is certainly not one of the cheaper options available but it is incredibly good. This is because it is often considered to be a diver's metal detector due to its ability to withstand underwater conditions. Therefore, it is a good investment for those who plan on doing most of their searching either in shallow water or on wet sand. While this type of conditions are where this metal detector really excel, you can also use it on dry sand with a great deal of success.
Features:
BBS Frequency – between 1.5 kHz and 25.5 kHz
Ground cancelling to eliminate false signals caused by salt water
Works in underwater depths up to 66 metres
Battery that lasts up to 12 hours
Slimline coil that measures 10 inches
Automatic ground compensation
Equipped with 8 ohms headphones
The Minelab Excalibur II will be most appreciated by those who have a serious interest in metal detecting, particularly at the beach. With this metal detector, you will be able to easily discriminate between items of worth and trash. It also overcomes the issue of receiving false signals due to the conditions posed by salt water and can be used at considerable depths under water.
Garrett AT Pro Metal Detector


The Garrett AT Pro Metal Detector is definitely a bargain considering the quality of the detector as well as the features that it offers. As far as metal detectors go, Garrett is one of those brands that is synonymous with producing some of the best models on the market.
The Garrett AT Pro is one such detector. Also, as the cost is quite reasonable, even entry-level metal detecting enthusiasts can feel comfortable using it.
This metal detector does work better in shallower waters, so you may not want to stray too far from the beach with it. Nonetheless, it does have the distinct advantage of being compatible with both freshwaters as well as saltwater.
Features:
Standard and professional search modes
Waterproof up to 10 feet
Digital Target ID range from 1 to 99
High Resolution iron discrimination
15 kHz frequency
All terrain features
What really stands out about the Garrett AT Pro is that it is such a versatile metal detector. If you do not want to focus solely on metal detecting on the beach, the AT Pro is capable of working in a variety of conditions. Therefore, you really are getting a great value for money, especially if you love to explore with your metal detector.
Minelab CTX 3030 Metal Detector


If you are looking for an all-in-one metal detector, then the Minelab CTX 3030 is a detector that you may want to consider. First, this is a professional model and it will work well in any circumstance, including in underwater conditions.
The Double-D smart coil is waterproof up to three metres so you can now improve your odds of making some exciting finds. It will also help if you find yourself in an area that has a large amount of trash or objects that could interfere with your search.
You will be able to pinpoint the targets that you want with greater ease while ignoring the unnecessary objects. This Minelab detector also comes equipped with a whole host of tech-savvy features.
Features:
Waterproof up to 3 metres
Excellent FeCo discrimination
PC Mapping available with Google Maps
Easy to handle
GPS enabled
Full colour screen
If you are a serious treasure hunter or are very dedicated to metal detecting, then this is the tool for you. You will be amazed at the precision that this detector is capable of. Even better, it also works perfectly whether you are on the shore or in the water. You can essentially use this metal detector anywhere that you want. With additions such as GPS and FeCo discrimination, you really will be getting your money's worth.
Garrett Sea Hunter MKII Metal Detector


As mentioned, when it comes to metal detectors, Garrett is really ahead of the curve in terms of design and technology. The Sea Hunter Mark II is definitely an example of craftsmanship. It is also an aptly named machine.
This metal detector is capable of overcoming the disturbances that are typically brought on by sea water or the other minerals found on the beach. With the Sea Hunter, you will be able to distinguish between aluminium, lead, and brass. You can also program it to ignore other materials that you are not interested in. You can use this metal detector in a variety of environments including land, mud, and up to 200 feet in the water.
Features:
Four separate configurations
Waterproof up to 200 feet
Works in saltwater – salt elimination mode
Audio Tone ID
Equipped with waterproof headphones
Discrimination full range
If you are looking for an affordable metal detector that will perform quite admirably, then the Garrett Sea Hunter Mark II is a good choice.
If you have a specific idea of what you want to find, it will be much simpler to accomplish it with this metal detector.
You will certainly not be disappointed by the accuracy that you experience as well as how easy it is to use. To top it all off, this metal detector is also quite durable.
Terratek Discriminating Metal Detector
I haven't seen this model for quite a long time on the market. I am not sure why it's no longer sold.
The Terratek Discriminating Metal Detector is yet another metal detector that used to be good for amateur treasure hunters. The waterproof coil that the detector comes equipped with enables it to be used in water that is not too deep. Also, you can easily choose just which type of items you want to look for. If you want, you can fix the settings so that you will only be able to pick up precious metals such as silver and gold. This way, you are less likely to get your hopes up over non-valuable items. Depending on the terrain that you are searching in, this metal detector should be capable of detecting items buried about 15 cm underground.
Features:
16.5 cm waterproof coil
Adjustable stem
Adjustable sensitivity for ferrous and non-ferrous objects
Pre-set ground balance
Detachable shovel
The Terratek metal detector used to be one of the easier ways to look for precious items at the beach. Also, if you intend on only metal detecting occasionally, the Terratek metal detector is not very costly. At the very least, it is the perfect metal detector to help you get started with this particular hobby.
Other metal detectors that can be used on the beach (not 100% fully waterproof) include;
If you are in the United Kingdom are hoping to do some metal detecting on the beach, these are definitely some of the better detectors for sale.
You will be able to find at least one option on this list that will suit your needs, regardless of your requirements or your experience level.
When choosing metal detectors, particularly, those that need to have specialized features, it is important to choose from brands that you can trust.
This will give you a better chance of being successful on your detecting trips.
Happy hunting for hidden treasures!