Minelab X-Terra 705 Review
First of all, this is not a model for a novice metal detector, this is a model for those who want a tool as close as it gets to a professional metal detector but with an affordable price.
Minelab X-Terra 705 metal detector is a mid-range model for those who want something almost close to a professional detector at an affordable price. This model has most of the advanced features of a professional metal detector and it is going feel nice and ready to go on the fields or on the beach.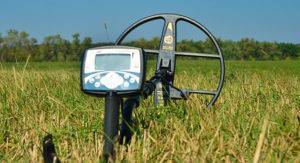 Design of the Minelab X-Terra 705
The Minelab X-Terra 705 comes in just a few parts making it simple to assemble upon its arrival, it should only take a few minutes. There is the 3 parts of the shaft, which click and lock into place with no movement or wobble making the detector feel secure and sturdy.
The coil is held in by a wing nut, and again feels nice and sturdy.
The control panel then just pushes on to the end of the handle making it very easy not only to assemble but to disassemble and transport around with you.
The battery housing is located in the side of the control panel and is opened with a thumb sliding compartment.
The coil wire slots into the back of the control panel, and the arm rest is secured in place with a screw.
It is sleek in design and light weight, finished in a black gloss, with a blue and silver control panel face.
One put together you can truly feel the quality of the Minelab X-Terra 705, and there is no give in the shaft. Sturdy and robust, while not sacrificing weight and balance.
Extended the detector measures approx 56 inches, and in a collapsed position 48 inches. It weighs around 1.3kg.
It comes standard with the 9 inch Double D Coil, running at 7.5khz.
The control panel is simple to understand and navigate and it has a transflective LCD screen fitted with a backlight, so for those of us that like to detect until the sun goes down this is perfect.
The buttons are arranged in a way on the control panel, that the thumb can move around without the need to have to keep looking at it to see where you are. Letting you focus more on the ground.
Buttons and Modes of the Minelab X-Terra 705
Power Button – For switching the machine on and off.
Patterns (1234) – For navigating between the different discrimination modes, this works with coins & treasure modes only.
Mode (A pick and a coin) – The mode button has three functions in total, coin mode, treasure mode and Prospecting mode.
The button is also used to activate the Target ID Stabilizer and to select the automatic option for Ground Balance and Noise Balance.
AM (All Metal) – Puts the Minelab X-Terra 705 into all metal mode.
Minus and Plus – Adjusts the settings, navigates the menu and reduces or increases iron Mask
Menu Select (Book symbol) – Enters the menu and scrolls through the machines settings.
Pinpoint/Detect ( Target and detector symbols) – Changes between pin point mode, and detecting mode.
Backlight (Lightbulb) – Turns the backlight on or off, and is a god send in dim conditions however, don't leave it switched on as it uses more battery.
Accept Reject (Tick and Cross) – Accepts or rejects certain compositions of metals.
Tracking (Wave symbol) – Lets you either set the ground balance automatically or manually.
Ground Balance (Detector symbol) – Selects the ground balance feature which makes adjustments depending on the terrain or soil mineralization.
The Minelab X-Terra 705 has two main modes, coin & treasure mode which are used for targeting things like coins, jewelery, and relics.
Bad targets like ring pulls and and bottle caps are rejected and Prospecting mode which is more of a setting for the USA and gold prospecting however it works really well in the UK in highly mineralised soils.
In this mode the targets are identified by audio only and the target ID does not work however it is more sensitive to smaller targets.
It has a further 5 preset patterns for you to use,
All metal which will not discriminate anything and pick up all metal compositions.
Pattern 1 is for non ferrous targets such as gold, silver, and precious metals, discriminating against most ferrous objects.
Pattern 2 again for non ferrous and rejecting some ferrous like foil. It's worth noting at this point that although the patterns may sound like they do exactly the same things, they don't. As you get used to the detector you will get used to the target ID numbers, these numbers correspond with metal conductivity and composition, so the different patterns in retrospect discriminate against different ID numbers thus discriminating against different compositions of metal.
Pattern 3 accepts signals from some ferrous, and is a great mode for relic hunting, discriminates against most ferrous however like ring pulls, foil, rusty nails etc and finally
Pattern 4 some ferrous will be accepted and most non ferrous. Discriminates against most ferrous.
Other than the preset modes that are available on the X-Terra 705, the machine has the ability to be fully customised to user specifications, using ground balance, discrimination, iron mask etc.
So whatever the conditions, you can set the machine to the best setting, allowing you to thoroughly and effectively search your locations.
These can even be saved and will not disappear when powering off the machine or even changing the batteries.
A more in depth look at target ID's can be seen on the X-Terra 705's manual this will explain exactly what target ID numbers are used for the patterns and discrimination's.
Features and Performance of the Minelab X-Terra 705
V-Flex "true digital" technology is probably the most important feature of the metal detector, it allows you to change the frequency of the machine just by changing the coils.
Giving you some great choices. Low, Mid and high coils are available to buy separately for the 705 giving you 3 machines in one!
Ground Balancing and Tracking Ground Balancing allows you to fine tune settings based on the ground you are detecting on.
Perfect for conditions like wet and dry sand, highly mineralised soil, and other conditions that would usually cause your detector to give off false signals and decrease performance. It can be set auto, however it can now be fine tuned as well.
Something that the previous Minelab X-Terra 305 did not have.
Adjustable Iron Masking, gives us the ability to detect good targets while they are located next to trash targets.
Two pin-pointing modes, these are auto and sizing. With the addition of the sizing feature it not only will precisely locate the target it will give you information on the shape and size!
OK now you have the information on what the Minelab X Terra 705 has, but how does it perform right?
To be perfectly honest, Minelab are a company that you can trust and rely on they consistently manufacture detectors that people love, and they haven't failed with this machine.
The machine is highly accurate, and when it comes to identifying targets just excels.
You only have to take a look at what other people are saying, to confirm how it performs.
Even in trashy areas the X-Terra does not struggle to find the good targets.
Depth reports of up to 12 inches, however this all depends on the conditions and the target.
Pro's and Con's of the Minelab X-Terra 705
PROS
Lightweight, sturdy and durable.
Great Battery life.
Performs to a high standard consistently, even in trashy areas.
Backlight on the LCD screen.
Interchangeable coils, which also allow you to change frequencies.
Simple enough for a beginner, powerful enough for a pro.
CONS
No 3khz DD coil available.
Only waterproof up to 1 meter.
No headphones or batteries included.
Videos of the Minelab X-Terra 705
Final Verdict
To be honest the majority of the people who own or have owned a Minelab X-Terra 705 told me that this detector is awesome.
What more can I say. 5 Star ratings all over the internet, this is a mid-range detector suitable for all, and is as powerful as machine twice, even 3 times the price.
Minelab offer you a 3 year guarantee, so peace of mind is there. If you have been researching this machine and just can't make your mind up, then my advice for you is to do it. Great machine, great performance, and great reviews all round.