Garrett AT Pro Reviews – All Terrain Metal Detector On A Budget
While researching the hundreds of Garrett AT Pro reviews on the internet, and checking out forums to see what owners are saying it was clear to see that the first generation released around 3 years ago now had some issues, reports of false signals were rife.
However, it is fair to say that Garrett seemed to have quickly recalled and fixed these issues as their second attempt seems to have impressed a lot of people.
One person even described it as a "Silver finding beast" and would highly recommend you buy the Garrett AT Pro Let us take a look at what we have found out.
Design and Appearance of the Garrett AT Pro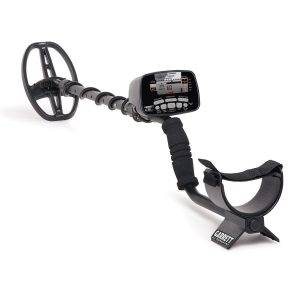 So let's take a look at the design and appearance, in true Garrett fashion again the machine comes in only a few parts making it easy to transport and to store. We have the brains (control panel) the upper pole, the lower pole, and one 28cm x 22cm search coil and a wingnut. Assembly is kept as simple as possible and you do not need a degree in engineering to put it together. In fact, it should take you just a few minutes.
We have a headphone jack socket in the bottom of the brains and the Garrett AT Pro does have an internal speaker built-in.
The battery compartment is slightly different to Garrett's earlier models the Garrett Ace 150, Garrett Ace 250 and the Garrett Euro Ace, to access it you have to twist the cover anti-clockwise and gently pull it forward, revealing like what can be described as cartridge load this with 4 AA batteries and you are away. The battery compartment is located in the front of the control unit and to get access to the batteries it is a matter of twisting the cover anti-clockwise and then gently pulling the cover forward.
This time Garrett has come away from their usual bright yellow and black design and opted for a more professional sleek look. I would describe it as a gun-metal gray with black padding and grips. They have added a strap on the elbow rest which will help keep it stable and firmly attached to your arm, and users have reported the grip as very comfortable. As with other Garrett models, it seems to be a favorite for comfort.
The brains (control panel) has been kept simple and effective with not too many buttons and features a standard LED Display panel.
The standard coil that comes with the Garrett AT Pro is a 28cm x 22cm DD coil.
Buttons And Modes Of The Garrett AT Pro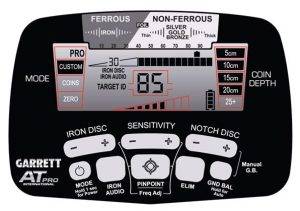 The control box has 8 buttons, making it easy to navigate and control. These buttons are as follows:
Iron Discrimination, changes the level of iron discrimination.
Sensitivity increases or decreases the level of sensitivity.
Notch Disc, used in conjunction with elimination to discriminate specific trash targets.
Power and Mode, yes they have them together, hold for one-second powers the machine on, press quickly to navigate through the different modes and holding for 5 seconds resets the machine back to factory settings.
Iron audio, this is used for hearing discriminated iron.
PinPoint and Frequency adjustment: Used for pinpointing or if used in combination with the sensitivity button is used to change the frequency of the machine.
Notch disc: To be used along with elimination to select cursors
Elimination: To eliminate specific trash targets.
Ground Balance: Using this on its own will auto ground balance, but if used with notch disc can be used to manually set the ground balance.
There are 4 main search modes on the Garrett AT Pro, Standard and Pro mode.
Standard mode gives of a full strength audio regardless of the targets amplitude, basically a single tone. This option is more for the beginner detectorist, or the Pro mode which gives a more detailed audio tone, with indication of size of the target, and the depth reported by the audio. Something that perhaps will take some getting used to if you are just a beginner. A custom mode which can be used to set the machine up to your specifications, coin mode which is now used to find most types of coins and jewellery and discriminates trash items. Zero mode is basically the same as all metal which was featured on the Garrett Ace 150, and Ace 250 models.
What I like about the modes, is that you can fine tune any of them. However, once it is turned off the settings are restored back to normal.
If you are bored of reading my review then you can jump straight to customer Garrett AT Pro reviews HERE
Features And Performance Of The Garrett AT Pro
The new features of the Garrett AT Pro are what have made this machine such a great all terrain machine, when Garrett have designed and manufactured the AT Pro they clearly have wanted it to be a metal detector that works anywhere no matter what.
The new ground balance feature is a new feature which helps fine tune the metal detector to the soil type and condition you are detecting in. In a nutshell, it helps decrease false signals and "chatter" from the machine and increases accuracy. It's simple to use, press and hold the button, while you bounce the coil from the ground upwards and you will hear a little buzzing sound which then goes silent, the Pro is then balanced. People have clearly welcomed the addition of this new feature as many have mentioned it in their reviews.

The VDI Target numbers have been added, these are the metal detectors way of telling you what it thinks it has located. The Garrett AT Pro displays a target identification number relevant to the object.
Although people have said it isn't by any means 100% accurate it does work to a degree and gives you a higher level of confidence to what is located on the ground. It would be a good idea when you begin with the AT Pro to document the ID numbers next to what the find was. It has also been used a lot by other detectorists to locate missing items, let's say for example a lady loses one of her earrings.
Scan the remaining earring, note the ID number and go hunting looking for a similar ID number.
Waterproof up to 3 meters! I think this has been the major factor for a lot of detectorist's. Although most wasn't happy that the headphones that came with the Garrett were not waterproof, it still seems to be one of the most talked about features of the machine. The machine can be fully submerged and reviews have mentioned how accurate this thing is in the water. If you are looking for a waterproof detector that won't break the bank then this is your baby. You will need to buy separate waterproof headphones though.
So what are people saying about its performance?
From what I have read since they ironed out the issues with the first release a few years ago 99% seem to be very impressed. The digital display shows up to 25cm+ in-depth but from the reports I can tell you that the detector can go deep, this is probably down to the new higher (15 kHz) frequency which also helps detects smaller and thinner items.
Most report of 8 – 10-inch good finds.
It is worth noting though, that people have mentioned it is capable of going deeper but it does lose accuracy. So you might pick up more trash the deeper the target. The recovery speed has been reported as very fast, however, you will need to slow it down in trashy spots and use the new iron audio this way you can hear the good targets among trash.
Pro's and Con's of the Garrett AT Pro
Pros:
The larger coil helps get deeper and more accurate results.
Iron Audio will help you find good targets among trashy targets.
Fully waterproof up to 3 meters.
Target Identification giving you more confidence to identify the item before digging.
2 Year Warranty.
Cons:
No waterproof headphones provided
No back-light on the LED screen making it difficult to view in darker conditions
Will take a beginner a while to use effectively.
Videos of the Garrett AT Pro
Garrett AT Pro Manual
You can download the official Garrett At Pro Users Manual HERE
Final Verdict
If you are looking for an all-terrain metal detector that is of mid-price range then the AT Pro is definitely for you, the AT in the name stands for all-terrain so it's clear Garrett focused on making sure they lived up to the name. Many people have spoken very highly about how great the machine performs no matter the condition. The fact it is waterproof also does it for me, this will help you get to places that other detectorists haven't been! I haven't myself used the Garrett AT Pro however this is top of my list when I upgrade.
The following statement was made by a professional user.
"As a professional user I can advise you that the AT Pro has lived up to expectation and has proven reliable and consistent. It is easy to operate too. I do not know of another reliable detector with the AT Pro specification that can be purchased for less"