Kid's Metal Detectors – What Are The Best Metal Detectors For Kids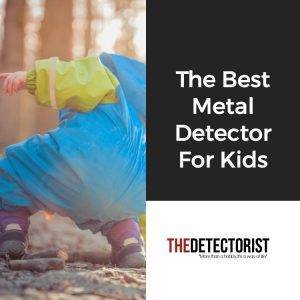 Perhaps one of the most exciting things that you can do with your children is to head outdoors on a treasure hunt.
This is true not just for your kids but also for the adults present.
When you are young, everything seems so much more interesting and thrilling.
The Best Metal Detectors For Kids 2023!
This is a comprehensive list of some of the top rated for kids metal detectors that would work well for your child. These are perfect in terms of height, weight, and complexity.
Top picks of metal detectors for kids
| Model name | Model image | Shop |
| --- | --- | --- |
| Bounty Hunter Junior | | |
| Garrett Ace 150 | | |
| Visua VSMD52+ Lightweight | | |
| Amzdeal Lightweight Detector | | |
Bounty Hunter Junior Metal Detector
What is ideal about the Bounty Hunter Junior metal detector is that it has been specifically designed for children.
First, this metal detector weighs only a little over half a kilo. It also extends all the way up to about 68 cm.
This means that children as young as six years old will be able to use and enjoy this product.
Furthermore, there is not a lot of intricacies involved with the Bounty Hunter junior metal detector.
It consists of the coil, stem, and control box.
The control box consists of a target indicator and two knobs.
The knobs can be used to customize it to avoid any unnecessary items. The other advantage is that there is just one tone – a beep.
It merely gets louder the closer you are to the object.
Features:
Can find coins up to 15 cm
Easily adjust power and sensitivity
Option to avoid trash
Suitable for young children
All in all, the Bounty Hunter Junior detector is as perfect as it gets for your little one.
You will easily be able to get them excited about metal detecting with this machine.
Even better, they will be able to handle every aspect of the detector by themselves.
Maplin Beginners Metal Detector
The Maplin Metal Detector is as simple as possible, but it's very hard to find one in stock.
In fact, this metal detector looks quite old fashioned and does not have any fancy digital technology to make it confusing.
Personally, I consider buying either Garrett Ace 150 or Bounty Hunter for kids.
There are just three knobs, which you can use to adjust the sensitivity.
There is also an option that allows you to discriminate between ferrous and non-ferrous items.
The readings are displayed in two ways.
The first is with the meter and pointer.
The second is through noise. The rod can also be adjusted to accommodate children of all ages.
Although this detector weighs about a kilo, the weight is evenly distributed so that it does not feel heavy.
Additionally, it is easy for a child to hold and manage this detector.
Features:
16.5 cm coil that is waterproof
Can tell between ferrous and non-ferrous items
Equipped with battery level indicator
If you choose to set it up for your child, all they then have to do is simply move the metal detector over the ground.
It really is as easy as that for them.
Just by looking at the view box, they will be able to tell whether or not they are getting close to the treasure.
Visua VSMD52+ Beginner Metal Detector
Visua is a company that produces professional metal detectors.
The Visua VSMD52+ is another beginner metal metector that's quite hard to find in stock. It is well built, rigid, stable and that may be an advantage for small children.
It's simple to use. this is largely due to the no-fuss controls and the analog display.
There is just one adjustment knob on this metal detector.
Nonetheless, it is still quite a good detector, able to discriminate according to the type of metal being detected.
It can also detect objects from 16 cm to 20 cm beneath the surface.
The rod can be adjusted anywhere from 55 cm, all the way up to 79 cm.
The coil is waterproof, which means that your child will actually be able to search for treasure in shallow water as well.
Features:
Waterproof, 19 cm coil
Comes equipped with headphones
Analog display
Adjustable stem
The benefit of getting the Visua Beginner metal detector is that it will grow with your child quite easily.
Furthermore, as it is quite sophisticated despite its simplistic controls, you will always be able to find some use for it.
Amzdeal Lightweight Metal Detector
The Amzdeal Lightweight Metal Detector may look quite fancy but it will prove to be quite easy for your little one to manage.
This is due to the simplistic analog display and just having three knobs to handle.
Nonetheless, you will still be able to set it so that it will be able to identify and discriminate between different kinds of metals.
The shaft can be adjusted from 85 cm to 115 cm.
It comes with an arm rest that your little one can comfortably settle into.
This will help to take some of the weight out of carrying the metal detector.
Also, the coil is waterproof, allowing you and your child to search for treasure even when it is raining.
Features:
5 cm, waterproof coil
Audio and visual identification
Simple control box
Adjustable height
With the Amzdeal, you will actually be able to provide your little one with a quality product.
However, they will find it incredibly fun and easy to use.
At the same time, they will have a much easier time finding buried items, in particular finding the type of objects that they actually want.
Duramaxx Waterproof Metal Detector
This is another metal detector for kids that's rarely in stock, I left an alternative for it below.
Weighing only around 1 kilo, the Duramaxx Waterproof Metal Detector is quite light, even for someone who is quite small.
The height of the shaft can be adjusted from 102 cm to 132 cm.
While this is a great beginner metal detector, it is probably better for a child who is just a little older.
This metal detector for kids is great at discerning between ferrous and non-ferrous objects.
It also helps to better locate targets that are buried beneath the surface.
In fact, you should be able to find objects up to 4 meters below the surface.
Additionally, the coil on the metal detector is waterproof, which means that you will be able to take it to the beach with you.
Features:
21 cm, waterproof coil
Target ID button
Audio and visual indicators
4 meters in depth search
Adjustable stem
For its price, you are actually getting a lot for this Duramaxx metal detector.
Both you and your child will be able to take turns using it, being able to be equally satisfied with the results.
This is perfect for the little metal detector who wants to take their detecting up a notch.
How to buy a metal detector for kids
If you are looking for metal detectors for kids, there are a few things you may want to consider first:
Weight
When you look at the weight of most metal detectors, they may actually seem quite lightweight.
However, you are only considering this from your perspective – with the heft and the strength of an adult.
Depending on the size of your child, they may not be able to handle a lot of weight. If you choose a metal detector that is too heavy for them, they may not be able to hold it properly.
Either that or they will not be able to wield the detector for too long.
Therefore, you should typically try to find the lightest detector possible or figure out just how much your little one can carry.
This means experimenting at home with how much weight they can handle and for how long. This will give you some idea of the weight range that you should be shopping for.
Height
Much like with the weight restriction, children will be unable to adequately manage a metal detector that is too long or tall for them.
Luckily, however, most metal detectors come with rods that can be adjusted to varying lengths.
Still, you should take some careful measurement and do some calculations before springing for a detector with an adjustable stem.
Each metal detector can be shortened only so much, so it is important to make sure that this matches your child's height.
This is especially important if the detector comes equipped with features like an armrest.
Complexity
The quickest way to ensure that your child gets bored and gives up is to make a task too hard for them.
What you need to remember is that the more features a metal detector has, the more difficult it is to master and use.
Contingent on how old your little one is, they may not have the attention span or the understanding to be able to deal with complex technology.
This is why you should stay away from fancier models, even if they do have a higher accuracy rate.
Instead, try to make sure that all your child has to do is simply turn on the detector and use it.
If there are settings, they should be able to be easily manipulated by a kid.
To make it easier to find what you are looking for, you will find a list of the best metal detectors for kids below.
These all have features and characteristics that are suited to smaller and fewer patient individuals.
Children are still at that age where being a pirate or a treasure hunter seems like a very possible occupation.
Giving them the tools to live out this dream is definitely one of the best things that you can do for them.
It would also be good for you as a parent or a guardian to be inspired by the whimsy and excitement that you can observe in the children.
While you may be looking for silver or gold, children will find all objects valuable.
For them, treasure can be anything from bottle caps to coins.
Of course, part of the fun is actually letting your little one handle the metal detector themselves.
Following the above tips will ensure you and your child will be able to have hours of fun with any of these metal detectors, often in different settings and environments as well.
If you have any questions, drop me a message in the comments section below.