Minelab X Terra 305 Metal Detector Review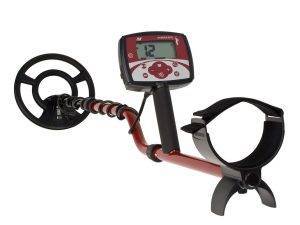 The X-Terra 305 sports a high gloss red finish to the shaft, and control panel face, with the rest of the detector black. We all know the colour is not what matters, having said that it's kind of nice looking! It weighs around 1.3 KG and comes with a 9″ concentric coil.
Assembly has been kept nice and simple, which we are happy with as the Minelab X-Terra is the entry level metal detector from Minelab. It comes in just a few parts, and shouldn't take you 5 minutes to assemble.
3 Parts to the shaft, The coil and coil lead, The control panel and the arm rest. The components of the shaft click into place, the coil is held in with a wing nut, the arm rest with one screw, and the control panel clicks into place.
What I like most about the simplicity of the assembly is it can be easily put together, but also easily taken to pieces put in a rucksack or transported.
The control panel has a nice large face with a very clear digital LCD display, making it very simple to understand for the beginner detectorist or someone who is slightly visually impaired. The controls are easily accessible with the thumbs, which makes it easier to navigate without having to spend to much time looking at them.
The Minelab X-Terra  has a 9 Inch 7.5 khz concentric coil as standard but there are a wide range available to suit your more specific needs.
The Minelab X-Terra 305 has been kept as simple as possible, as they have tried to keep the beginner in mind and made this their "entry level" detector. It features 9 buttons in total and they are as follows.
Power button – Switches the detector on and off.
Menu – To access and navigate through the settings of the detector.
Pinpoint/detect – Pinpoint helps locate the target more precisely, and the detect exits settings and puts the metal detector in detecting mode.
The Plus and Minus buttons – To adjust the settings, and navigate left and right through the discriminations.
123 – Selects the discrimination modes.
Tick & Cross – Accepts or rejects different metal compositions.
AM – To change between the discrimination patterns and the all metal pattern.
The Ground Balance Symbol – Activates the manual ground balance which compensates for different soil types.
The X-Terra 305 has 3 preset detection modes but can be customised.
There is the standard all metal mode which targets all metal composition types, and does not reject anything. Everything from jewellery to a rusty nail will be detected.
Pattern 1 accepts signals from non ferrous targets, for example gold and silver but discriminates against ferrous objects and also discriminates ferrous aluminium foil.
Pattern 2 which accepts signals from the majority of non-ferrous targets, but rejects ferrous and aluminium foil and ring pulls.
It features a pin pointing mode, which gives you a more precise location of a target. This works by temporarily switching off discrimination and putting the machine into a non-motion metal detector. When in the pin point mode the X-Terra 305 will give off a continuous noise, which indicates the strength of the target signal. The difference in tone giving you a more clear idea as to where the target is located.
Features and Performance of the Minelab X-Terra 305
The Minelab X – Terra for a beginners metal detector, features some really great features among some are features that an entry level detector wouldn't usually include.
Ground balance is something you wouldn't usually see on an entry level detector, however Minelab have been kind enough to include this feature. Anyone who has used Ground Balance will know it's importance and how it can help in compensating false signals.
When a metal detector is unbalanced, it will detect targets yes, however depending on the ground conditions your detector can also give off what they call "false signals" this is primarily due to the minerals in the soil or ground. This feature of the Minelab X-Terra reduces the false signals, and compensates for the ground you are above. Thus enabling the good signals to be displayed correctly on the target ID and heard correctly via audio. This mode also works with Pin Point mode.
Sometimes when using a metal detector other electrical frequencies can interrupt with your signals, this can be caused by overhead power lines, other detectorists and other electrical equipment which in turn makes your detector crackle and pop. The Noise Cancel feature of the machine enables us to "change the channel" so we can experience less interference.
Threshold adjustment on the X-Terra 305 allows us to save settings for both the internal speaker and the headphones, and helps us distinguish between good and bad targets using the sound. When a rejected item is underneath the coil the threshold sound will be silent, but will give a reading indicating that it is there. It's something that you will have to experiment with and should definitely take your time to learn.
Depth indication and target ID are both features of the Minelab X-Terra 305, the depth indication is located on the right hand side of the LCD display and is shown in arrows. This is more accurate when detecting a good target opposed to a ferrous object. The depth indication is displayed as follows:
1 arrow is approx. 0–2" (0–5 cm)
2 = 2–4" (5–10 cm)
3 = 4–6" (10–15 cm)
4 = 6–8" (15–20 cm)
5 = 8–10" (20–25 cm)
Target Identification is a priceless feature of a metal detector and gives us a clearer picture on what the item is that you have found.
It uses numbers to display the composition and properties of the target along with the conductivity. Once you have been using the metal detector for a while you will be able to use this ID to pre determine what the object is, unfortunately it's not always 100% right, so if you are like me you will dig every target any way no matter what the machine tells you.
Pro's and Con's of the Minelab X-Terra 305
PROS:
Great features and display for an entry level metal detector.
Light weight and good battery life.
Lots of coils available for separate purchase.
CONS:

Unsure to if it is waterproof.
No headphones included.
No Batteries included.
Videos of the Minelab X-Terra 305
Final Verdict
After reading numerous reviews around the web, and speaking to a couple of friends who have owned the Minelab X-Terra 305 they all seemed to report more good reviews than bad.
It's worth noting that if you are a beginner there are cheaper detectors available, and that although it is an entry level detector from minelab, it's also suitable for people who are upgrading from beginner detectors like the Garrett Ace models. In my opinion this detector is at the same level of performance as the Garrett AT Pro. Reports of depths of around the 8 inch mark are standard.
The X-Terra 305 is a great metal detector from Minelab, and does exactly what you need it to do, it boasts good accuracy and really does cut back on the ferrous object finds. Minelab are a great company, and they offer a 3 year warranty as standard.
In my opinion it is well worth the investment especially if you are upgrading from a beginners metal detector.
Minelab's  VFLEX technology, change the frequency of the Minelab X Terra 305 simply by changing the coil.
Compatible with (7kHz) and (18.75kHz) coils. There are many coils available to purchase.
Highly accurate ground balance control, change the ground balance with either auto or manual adjustment from 0-20 to fine tune for ground mineralization.
Customized searched modes and built in search modes including an All metal mode.
Choice different tone ID's.
Threshold adjustment, from -5 to 25 letting the owner set the threshold to levels where variations from  small shallow targets, or very large deeper targets can be picked up.
Noise Cancel function with 3 manual changeable settings letting the detectorist choose the quietest channel.
Pin Point Mode with rapid recovery.
Volume adjustment.
Depth indicator which is available to you even in Pinpoint mode.
LCD display.
Powered by 4 x AA batteries long lasting battery life.
Ultra lightweight and balanced weighing in at only 1.3 Kgs.
If you would like to read more Minelab X-Terra 305 reviews and get more information you can by visiting the links below. Alternatively you can read more on the  Minelab X Terra 705 which is the more advanced powerful model.