Bounty Hunter Quick Silver Review in 2023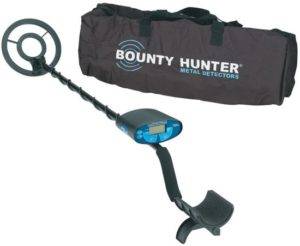 Bounty Hunter Quick Silver is a beginner's metal detector. The way it is constructed as well as its features attest to this.
This means that it's easy to use for a novice and to start metal detecting straight away, without even needing to read the manual.
Is Bounty Hunter Quick Silver waterproof?
The brand, Bounty Hunter, is known for being a good manufacturer and for producing quality metal detectors.
So, the question remains how does the Quick Silver, in its limited capabilities, perform against most other entry level metal detectors?
Design and Appearance of Quick Silver
Fully automatic ground balance
Push-button discrimination and one-touch depth control
4-segment digital target identification
3-tone audio feedback
Easy view LCD display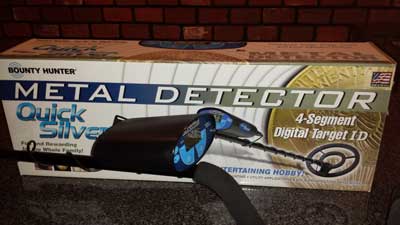 The Quick Silver is quite distinctive in its appearance, particularly when compared to its closest relative, the Bounty Hunter Lone Star Pro. The Quick Silver has a concentric eight-inch search coil, while many of the newer versions boast DD search coils. One of the benefits of this smaller coil, however, is that it is easier to maneuver than other bulkier designs.
This metal detector comprises of the search coil, the lower and upper stem, and the S-shaped rod. The S-shaped rod is where the armrest and the control box is housed. Undeniably, one of the most noticeable things about the Quick Silver is the control box. While the Lone Star Pro and later models have more polygon shaped control boxes, the Quick Silver's is longer and more elliptical in shape. This is not the only difference, however. The display is also considerably smaller and there are a fewer number of buttons as well.
This is a metal detector that you will have no problem putting together. It is just a matter of slipping in the pieces together. In fact, you should be able to use your Quick Silver in a just minutes after you have taken it out of the box.
The Quick Silver does boast several comfort features. There is the thinly padded armrest, which is quite useful if you will be detecting for a longer time. Also, the handgrip is quite comfortable and is well positioned. With most of your hand on the grip, you can still use the control box. At just 2.8lbs, this metal detector is quite lightweight. This, too, is great if you want to use it for extended periods of time. It also comes with a little design on the back of the armrest that allows you to stand it upright on any surface when you are not using it.
Buttons and Modes of the Quick Silver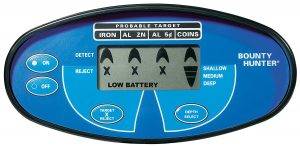 There are just four buttons on the Quick Silver. Two of them are power buttons – one to turn the detector and the other to get it to power down. The other two buttons are the Target Reject and Depth Select features.
As mentioned, the Quick Silver is quite simplistic. This means that there are no particular modes. Instead, at the top of the display, there is a list of materials. Below that, there is a cursor to indicate whether or not these materials are being picked up by the detector. Just underneath the cursor, is the reject icon which indicates if you want the detector to avoid this particular material.
The discrimination options are as follows:
Iron: this includes ferrous objects or items that might be wholly or largely made up of iron. With this option, the detector may also pick up small foil and gold pieces as well.
AL ZN: this distinction will allow you to detect most types of rings including some gold rings, pennies made after 1982, zinc coins, and items that may be considered to be trash.
AL 5¢: large gold rings, nickels, and large aluminum pieces are all objects that can be found when this option is chosen.
Coins: this is for coins that were made before 1982 such as copper pennies as well as silver coins, and dimes.
You can also choose the depths that you want to be targeted. This can be done by pressing the Depth Select button. You will then be provided with the option to choose shallow, medium, and deep. These are indicated by icons on the side of the screen.
Features and Performance of the Quick Silver
While there are certain limitations when it comes to features with the Quick Silver, it does have a lot to offer. One of the most useful aspects of this metal detector is the preset ground balance. This means that most signals that result from ground mineralization are actually largely ignored by the metal detector. As a result, the detector is a lot more accurate and can be used in most normal soil and ground conditions.
There are also three audio tones that will inform you what the detector is detecting. The bass tone indicates ferrous objects including iron and steel. In certain instance, small gold pieces may also cause this tone. The medium tone is for objects that fall under the AL ZN and the AL 5¢ range. The high tone is for coins, brass objects, and items that may be considered highly oxidized.
One of the elements of the Quick Silver that does tend to suffer is the discrimination.
Environmental factors, as well as, hidden objects, can play a role in causing the metal detector to get 'confused'. This does tend to happen with other metal detectors as well. However, it can happen more frequently with the Quick Silver.
The Quick Silver may also not be suitable for rougher terrain or for metal detecting that requires a tough detector. Although of good quality, it can be prone to damage.
Pros and Cons of the Quicksilver
Pros:
Affordable
Good for beginners
Lightweight
Easy to understand
Quick setup
Cons:
Limited capabilities
Prone to damage
Final verdict for Bounty Hunter Quick Silver
The resounding theme of the review of the Bounty Hunter Quick Silver is that it is a beginner or entry level metal detector.
Therefore, it cannot be judged too harshly. For the most part, it functions quite well and really is a great tool for guiding new detector enthusiasts.
However, for the avid hobbyist, this metal detector will soon outlive its use. The Quick Silver is best suited to individuals who will not be pursuing metal detecting very far or for children who require simpler detectors.
This metal detector is great for someone looking for an entry level detector.