Garrett ATX Reviews – How Deep Does It Really Go?
I have been waiting for this one so I could learn more for myself, this is the detector I WANT! I haven't owned one myself, but I do know a man who swears by it, add that to other Garrett ATX Reviews from around the internet and what can we take from it? Let's take a closer look.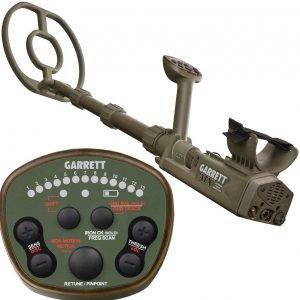 When it comes to best metal detector Garrett ATX can be considered one. The only problem is that it's hard to find one in the market.
How Deep Does It Really Go?
It will detect up to 2-3m depth.
Design and Appearance of the Garrett ATX
I really like the design of the Garrett ATX.
It has that army, military style that I think makes you feel more powerful and really keeps you more focused while you are metal detecting!
Everything about the Garrett ATX looks "tough" and it is in fact very rugged.
It's built to last.
It's styled in the same colour apart from the Garrett Logo, and display.
The buttons are laid out in a simple fashion, and there is no digital display, Garrett has gone back to basics on this one. The control panel is set out in a way that makes the machine really easy to navigate without having to look down at the display too much. You have a primary and secondary set of controls.
The Garrett is a little heavier than usual, weighing in at around 3.1 Kg it's perhaps not the metal detector of choice if you are a bit of a "weakling"
Usually, Garrett machines come in just a few parts but the Garrett ATX folds up to a nice compact little bundle making it probably one of the easiest metal detectors out there to transport or store away if you are one of them that likes to put your detector away! It is telescopic and locks into place when you have it set at the preferred length. The size dimensions are 20″ up to "68.
The coil as standard is an 11" Double-D Coil, but are fully interchangeable with some really awesome coils available.
Buttons And Modes Of The Garrett ATX
The ATX features a primary and secondary set of controls. Primary being displayed in the white which are accessible straight away, and the secondary are shown in the red writing, these are accessed by using the shift button.
Everything about the Garrett ATX makes it a professional detector that is very easy to understand. It can only be used in two modes. Motion mode and Non-Motion mode. When you power the machine up it will automatically be in motion mode.
The control panel is made up of 7 buttons.
The sensitivity and discrimination increase and decrease buttons, used for adjusting both factors. The shift button is used to select between primary and secondary options. Threshold and Volume increase and decrease. The ground balance which allows the detector to learn what kind of ground you are searching in.
I love how simple they have made this to do, you find a place clear of any metal objects, hold the Garrett ATX approx 6 inches above the ground, hold the ground balance button, and bounce between 1 and 6 inches, it takes about 5 seconds and the machine will beep and that's it set up!
Ground Tracking is a new feature to Garrett, this feature continuously tracks the ground mineralization, the only problem with using this is because the machine is slowly tracking it may decrease the depth capabilities. Pinpoint, used for providing a more accurate location of the target. Pinpoint, this option is rarely used however it basically resets the audio and LED back to zero. The Iron check button, activated by holding the button, is specifically designed for only a Double-D coil and won't work with mono. It basically is used to identify iron objects using the audio.
Finally the frequency scan button, this is to find the most accurate frequency. I love this because if you are near power lines, other detectorists etc it really does optimize the metal detector to the best possible performance.
Features And Performance Of The Garrett ATX
While doing my research the one thing that stands out above all of the rest of awesome characteristics of this metal detector, was the depth. All over the internet people are raving about just how deep the Garrett ATX can go. Some saying that they reached depths of 18″ using the 12″ DD coil.
The machine is fully waterproof up to a depth of 3 meters or 10 feet. Unfortunately again Garrett have failed to supply waterproof headphones as standard, and you will have to purchase a set. Come on Garrett!!
I suppose one of the other major factors in customers satisfaction with the ATX is the machines ability to detect well in any conditions, it doesn't matter what you throw at it. Highly mineralized soil, salt water, all terrains and extreme weather will not stand in your way of a good day!
Garrett have really focused on maximum detection on all metals at the very same time, you will not have to switch through modes or play around to identify one signal while discriminating another signal, and also have included the Double D coil to enhance detection of the smaller items.
The ATX can be fully collapsed and detects no matter how you have, basically with the stem fully extended or without or anyway in between, meaning you can get pretty much everywhere with this, in all the nooks and crannies that you usually wouldn't be able to get. Also good for scanning walls.
It works on Pulse induction at 18 – 19Khz and operates at about 730 pulses per second. Garrett pushes even more sensitivity and performance out of it because of the lower pulses per second in comparison to other machines like the Minelab GPX5000.
Check out this link for more featured performance content.
Pro's and Con's of the Garrett ATX
Pros:
Amazing depth capabilities.
Simple to use features and functions.
Fully collapsible and fits well in a back pack.
Copes well with bad ground, salt water, and tough terrain.
Cons:
Weight of the Detector is quite heavy.
Takes 8 AA batteries but you do get a charger with the machine.
No waterproof headphones as standard.
Videos of the Garrett ATX
Final Verdict for Garrett ATX
From what I have researched, the Garrett ATX was pretty much a success, and many people will recommend it. Not only is it a Garrett and comes with 2 years warranty but the machine was military passed so you know you are getting quality.
If you are not working with a budget, because let's face it, who has that kind of money to spend on a hobby, then this machine is amazing. I would love to own one, or at very least have a few outings with it! I do feel like Garrett should start including waterproof headphones with their waterproof machines as standard though.
Anyway if you are thinking about purchasing one but want to see other Garrett ATX Reviews then check out the buttons below. I have included the best prices I found on eBay and Amazon.