Minelab E-Trac review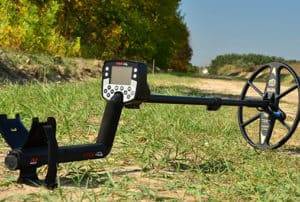 Minelab e-trac is professional metal detector which isn't well known. This company has a good reputation when it comes delivering great metal detectors so we couldn't expect less in this case.
After analyzing the Minelab E-Trac I got to the conclusion that this is a great metal detector and I'll elaborate why bellow.

This is a professional metal detector so you have to take notice that you will have to learn how to use it to make it more efficient. It has so many readings and it's a complex machine designed to help you find hidden treasures.
Features of E-Trac
It can detect on 28 different frequencies from 1.5 kHz up to 100 kHz. Basically, you can detect almost anything that's in the ground.
Smartfind technology – thanks to this you can get better info about what is buried underground
Clear resolution visual LCD panel 72mm x 48mm.
Backlight button.
Refined threshold adjustment level on a 1-50 scale for greater precision to suit your requirements.
Trash Density settings – High means fewer false signals in high trash environments while Low is great for clean terrains.
4 custom modes for detection: coins, high trash, beach, and relics
This is something that's new in the industry, you can save your custom settings and you can create backups which you can share with your friends by directly connecting E-Trac to your computer via the technology known as E-Trac XChange USB functionality.
Design
This metal detector has many features and I'll try to describe what each of them is doing. I'll start with the power button because that's easy to recognize and we'll go to the right button/display. The power button from E-Trac is located in the left corner. I'll describe each individual button and functionality below.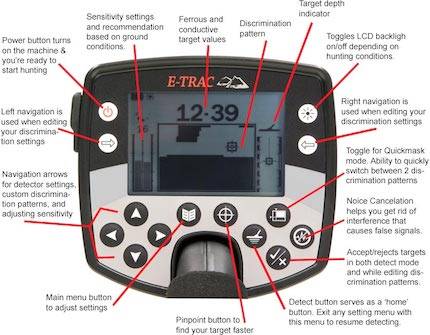 Sensitivity settings
Ferrous and conductivity values
Discrimination pattern
Target depth indicator
Toggle for LCD backlight
Right navigation is used when you want to edit discrimination settings
Toggle for quick mask mode, the ability to switch between 2 discrimination patterns.
Noise cancelation to get rid of interference from false signals
Accept/reject targets in detect mode and in edit mode
Detect button which will exit from any menu to resume detecting.
Pinpoint to find your target faster
Main menu button to adjust settings
Navigation arrows for detector settings
Youtube review:
Final verdict for Minelab E-Trac
This metal detector is for professional use and it can find valuable metal items with a great accuracy in both normal conditions and extreme ones such as extremely salty soils, seawater, wet beach sand and highly magnetic ground conditions.
It has a huge spectrum of frequencies and it can block interference without any problems. If you have the budget for this metal detector then you should definitely consider on buying it.