Minelab CTX 3030 Metal Detector Review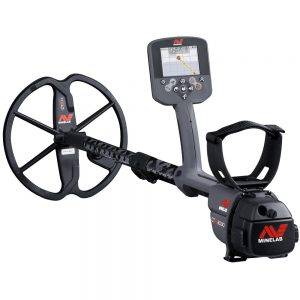 Primarily the Minelab CTX 3030 is grey and black in colour, with the red minelab logo located in a few places on the metal detector.
The stem/shaft is crafted in carbon fibre.
It has a full colour LCD screen, with a push button keypad and handle mounted trigger and to say the least it looks the dog's danglies!
You would expect that to initially assemble the CTX 3030 due to it being one of the worlds greatest detectors that it would be considerably more difficult. But they have designed the machine in a way that it doesn't take an engineering degree and is very simple.
Last update on 2017-05-27. Links, Images & Prices from Amazon Product Advertising API - More Details
The Minelab CTX 3030 is not the lightest of machines, and is in fact heavier than I would have expected however it is by no means cumbersome or chunky.
The quality of the build is among one of the most sturdiest detectors I have ever held, and in true Minelab fashion they have not sacrificed an ounce of quality.
The machine is really well balanced and the majority of the weight comes from behind the arm rest where the battery pack is located so it does make the machine more comfortable to hold.
The Detector has a minimum size when the shafts are retracted of 37 inches, and can be extended up to 55.3 inches. It weighs approximately 2.3 kg when the battery pack is in place.
It is fitted as standard with an 11 inch Double D Waterproof Smart coil, and the CTX 3030 is fully waterproof up to 3 meters. So there really is no where you can't go with this detector.
The coils can be easily changed and Minelab offer a large variation.
As you can see the Minelab CTX 3030 is not a detector you can just pick up and use straight away, you WILL need to read the manual especially if you want to use this machine to its full power and capabilities. It is a professional metal detector and is aimed at a detectorist who takes the hobby very seriously, and has the patience to learn.
Click here to Download The Minelab CTX 3030 Manual
The CTX has 10 Modes settings, however the modes 6 through to 10 will only exist when you create them.
These are used for you to add your personal specifications, discriminations etc there are many setting available around the internet and on forums for you to try out.
Modes 1 through to 5 are coins mode, Beach mode, Relic Mode, Silver mode and high trash mode. Each mode can be customised to suit the detecting conditions. (it would take me forever and a day to go through every thing you can change)
On each mode you can view and adjust the settings for Pattern 1, Pattern 2, Tone ID profile, Response, Recovery Fast, Recovery Deep, Seawater, Target Seperation and pinpoint.
Features And Performance Of The Minelab CTX 3030
Here's the video on how to assemble so you can see all the components that make up the machine.
The Minelab CTX 3030 is ram packed with features that a mid range detector would not usually include.
It has a full colour LCD display.
A GPS finds tracking system called the Geostore. This allows you to store, sort and view up to 100 find locations.
Wireless audio, which enables the use of wireless audio systems using the advanced WiStream technology the CTX will achieve clear sound with no delay. It also has an internal speaker and headphone socket. The wireless module comes with a rechargeable battery which can be charged via USB or by the battery charger. You can either attach the module to a belt clip or simply place it in your pocket.
Full band spectrum 2 transmission (FBS2) combines full band spectrum transmission with advanced digital coil to detector communications resulting in advanced signal analysis and a more accurate detecting experience.
It is very easy to over complicate things with the Minelab CTX 3030 and it's believed you are better to let the machine do its thing until you are confident you have mastered the sensitivity settings. It excels in separating trash and good targets.
The CTX does not seem to suffer from any masking problems unlike other detectors, so discrimination should be used.
Every program presents you with a choice of two different patterns of discrimination.
Depth reports of up to 16 inches!
However this was using a 17 inch coil. Still pretty impressive though.
MineLab CTX 3030 Quick Specs
Buttons And Modes Of The Minelab CTX 3030
As per we will have a quick run through of the buttons and what they do.
There are in total 11 buttons, which are all push buttons.
Power Button
Detect Button
Identify Button
Noise Cancel
Audio
Ground Balance
Sensitivity Button
Menu
Map Button
Store Button
User Botton
Pro's and Con's of the Minelab CTX 3030
PROS
Well balanced, very sturdy high quality build.
GPS finds location store feature.
Waterproof up to 3 meters.
Fully customizable with hundreds of programmes available to download.
Full colour LCD display.
CONS
Headphones are not waterproof.
Programming mainly has to be done via a PC, and you have to use it to restore settings.
Takes time and Patience to master and use to full potential.
Videos of the Minelab CTX 3030
Summary of the Minelab CTX 3030
For the Price of Minelab, they had to get it right, and my god they did.
I suppose if you look at some other hobbies and what people pay for their equipment it's not as expensive as what you originally comprehend.
The Minelab CTX 3030 is without a doubt one of the best detectors on the market and hundreds of customer reviews back this up.
If you have time and patience and metal detecting is a way of life for you it's well worth the investment, you only have  to look at the second hand minelab CTX 3030 listings on ebay to realize that they truly hold their value.
My only advice is that it's easy to over complicate things, and make a meal of using the detector. It's far better to let the CTX do the work for you. Read the manual before you attempt to use to avoid disappointment.
Best prices I found for the Minelab CTX 3030 Underwater metal detector
Minelab CTX 3030 Underwater Discoveries Special Bundle w/ Free Minelab Gloves, Carrybag, Wireless Module & Headphones
Waterproof Go detecting anywhere with this versatile TREASURE detector the CTX 3030 is waterproof to 10 ft. (3 m)
GPS Locating See where you have been and where you are going, by using the Map screen and Navigation Tool PC Mapping (with Google Maps) Upload all of your detector settings and treasure locations to your PC using the Exchange 2 application
Wireless Audio Have the freedom to detect without your headphones being attached to your detector with the choice of built-in speaker or headphones
FBS 2 Technology uses multiple frequency transmission and coil-to-detector data communication to find more targets in variable ground conditions
Last update on 2017-05-27. Links, Images & Prices from Amazon Product Advertising API - More Details