Makro Racer 2 review
The one thing that separates an average coin finder from a truly prosperous relic chaser is the weapon. In this regard, I would like to present to you this great mid-range metal detector, the Makro Racer 2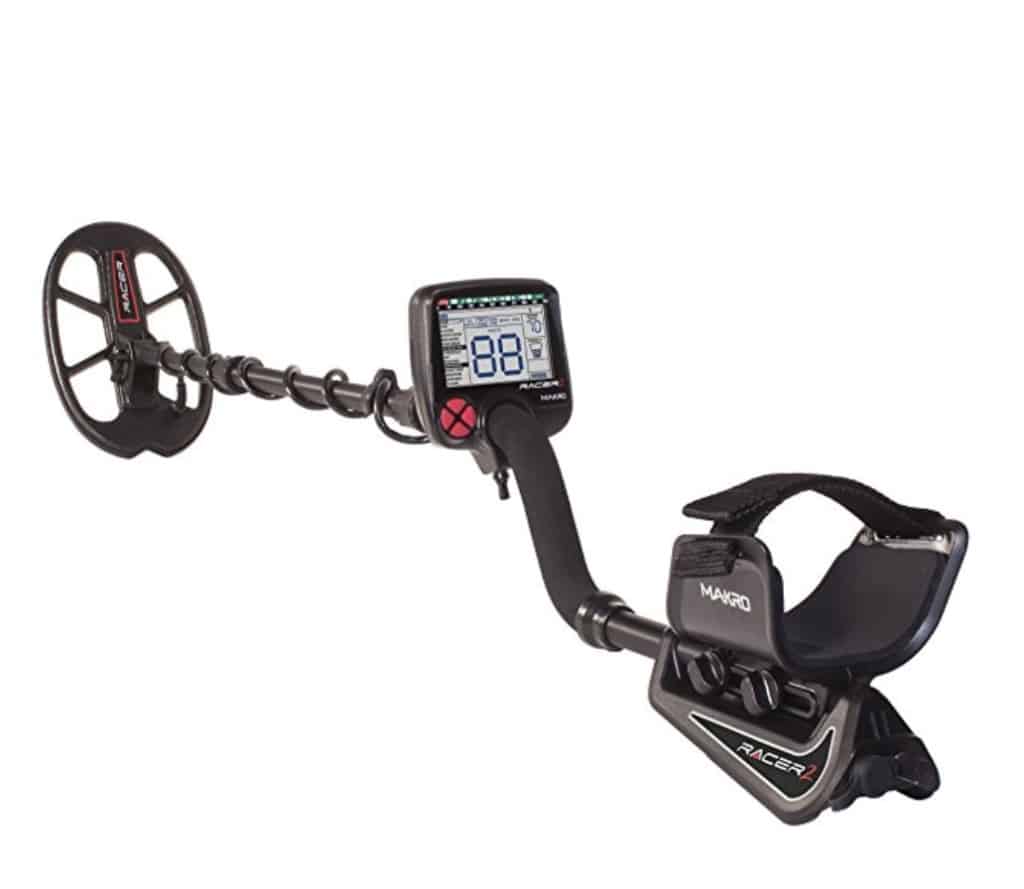 This metal detector is a 2016 release from the guys that shook the market of artefact retrievers with the state of the art Racer technology. It comes with a high performance 11″ x 7″ Search Coil, 5 different search modes, a magnetic mineralization detector and advanced discrimination ability. A sleek design and high-quality materials make it suitable for extreme treasure hunting on challenging terrains.
Makro Racer 2 in a nutshell
Time has been very kind on the Makro Racer 2. More than three years have passed since its official release and this device still reigns at the top of metal detecting technology. In a relatively short span of time, it has earned the trust and appreciation of both experts and customers alike. So, what makes it so special?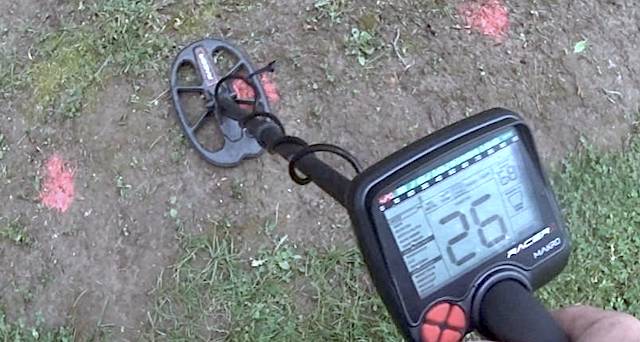 For starters, the Makro Racer 2 uses leading-edge technology with innovative features for sensitivity that make treasure hunting easy and comfortable regardless of the environment. Its versatility is backed by a powerful waterproof coil and a system that runs at a frequency of 14 kHz.
When you boil it down to its basics, the Makro Racer 2 is an excellent addition to your metal detecting arsenal. Its main features include:
Frequency Shift
LED Flashlight
Notch Filter
Magnetic Mineralization Indicator
Tone Break
iSAT (Intelligent Self-Adjusting Threshold)
Furthermore, it includes an audio tone option that allows you to choose the target warning signal that will pinpoint the exact type of metal you are looking for. On top of all these impressive features, the Makro Racer 2 uses the new DEEP Mode technology that makes for easy relic hunting in muddy terrains or at the beach.
Is Makro Racer 2 waterproof?
No, the search coil is waterproof, while the metal detector isn't.
What's in the package?
The Makro Racer 2 kit comes equipped with everything you need for comfortable and fruitful artefact chasing. The contents of the package show why it is crucial that you own a metal detector made by treasure hunting experts and not casual enthusiasts. As it is the case, a standard Makro Racer 2 order will include:
An RC29V (29cmx18.5 cm – 11"x7") search coil
Koss KPH7 Headphones
4 x AA Alkaline Batteries
RC29V Search Coil Cover
The Makro Racer 2 is ideal for treasure hunters that are on a continuous search for lost coins, jewelry, and relics. It comes in a ready-to-use mode that enables you to go roaming for artefacts as soon as you unpack it.
This metal finder occupies very little space, so it is easy to store in your shed, your garage or even in the trunk of the car if you like the occasional stop-and-explore time-offs during your daily commute.
It is worth mentioning that the standard package should handle your metal detecting ambitions easily and without the need for further purchases. However, if you wish to boost your chances of successful relic retrieval, you can upgrade to the PRO package that gives you an additional 5"x4.5" coil, an extra lower shaft, a treasure pouch, rain covers and an AC & Car Charger.
What is the Racer metal detecting technology?
The Racer technology has taken the market of metal detectors by storm. Its innovators opted for high-end performance and professional design that compete with and even exceed some of the most expensive artefact seekers out there. The highlight features include:
VLF Operating Principle
14 kHz Operating Frequency
100 Hz – 700 Hz Adjustable Audio Frequencies
5 Search modes (All metal, Two-tone, Three-tone, DEEP and Beach)
3 Ground balance modes (Automatic, Tracking, Manual)
An indicator of mineralization intensity in the ground
The extended battery life of up to 30 hours of continuous operation
Digital Target ID and ID Filtering
Additional features include unmatched depth for challenging terrains or underwater exploration. An optional Bluetooth module enhances your flexibility and enables you to seek relics without worrying about getting tangled in the headphone cables. For an extra buck, you can pair this feature with a 2.4 GHz Wireless Headset.
One of the special features that separate the Makro Racer 2 from its competitors is its advanced vibration module. This option blocks the outside sound and allows you to hunt carefree in noisy environments, but it also makes it easier for the hearing impaired explorers to look for lost artefacts.
Who manufactures Makro Racer 2?
The Racer 2 is a product of Makro, a Turkish company that specializes in metal detectors. They have been in the business for quite a while, and according to their official website, they are a "prominent, stable, and powerful, honest and trustworthy corporation" that "values the human, props partaking; and renounces egoism and greed."
Their mission and creed are noticeable in the high-quality products that they engineer and the ambition with which they challenge the big names in the metal detecting business. Having one of their treasure finders in your inventory should be a good choice and a reliable long-term investment.
Where can you use the Makro Racer 2?
If you often find yourself looking for lost coins and jewelry in challenging terrains, then you will want to have a Makro Racer 2 metal detector as your primary tool of exploration. This device is equipped with the necessary technology to find nimble relics in mud, sand, rocky fields and murky shallow waters.
The Magnetic Mineralization Indicator distinguishes between the various types of metals and minerals in the ground and lets you know if you are on the correct seeking path. The Notch filter discriminates between single and multiple targets, while the Iron Audio feature allows you to turn off or adjust the volume of the low composition layers that you encounter.
As it stands, the Makro Racer 2 is suitable for both occasional garden searches and extended exploratory missions at the beach or in artefact-rich terrains.
Why buy the Makro Racer 2?
Simply put, if you are looking for something mid-range that's close to a professional level, then this is one of the right metal detectors for you. There are multiple qualities that this metal detector has and I'll elaborate them below.
Features
The abilities and potent performance of Makro Racer 2 recommend it as a no-brainer purchase. Few customers have struggled to discover its downsides, and even fewer metal-detecting specialists have given it a low rating. However, before ordering this high-end exploration tool, you should decide if it is the right artefact finder for you.
A reliable metal detector should tick a few crucial boxes in your relic seeker mission. In this regard, the Makro Racer 2 should hit at least average points on the following criteria:
Sensitivity
The Makro Racer 2 has a high level of sensitivity that allows you to search for valuable items even in dense soil or underwater silt.
Discrimination
The Makro Racer 2 uses a Notch Filter to reduce discrimination errors and differentiate between precious metals and unwanted materials.
Calibration
The coil on the Makro Racer 2 has top quality calibration standards that make it easy to use even for inexperienced explorers.
Radar
This function refers to the penetration power of the metal detector. The Makro Racer 2 has a newly-developed technology called DEEP Mode that enables you to search for coins and jewelry even in difficult terrains.
Coil size and shape
The search coil on the Makro Racer 2 measures 11″ x 7″, which is better than the standard coils that you may find on other metal detectors. With this device, you can cover a large exploration area and use the high sensitivity technology to dig out tiny metal objects.
Technology
Racer technology is one of the most reliable innovations in metal detecting. It abounds in special features and high-end specs that give you the confidence to hunt for treasures with few to no worries at all.
Mode and depth indicators
The 5 modes available on the Makro Racer 2 make it one of the most effective metal detectors on the market. Also, its ability to rummage through high-density layers of soil recommends it as an excellent tool for deep-searching surveys.
Makro Racer 2 excels in most of the most important features of a metal detector. It offers you a great chance of coming back from your explorations with a plentiful bounty whether you are an entry-level treasure hunter or an experienced relic retriever.
What are the buyers saying about Makro Racer 2?
Since its release, the Makro Racer 2 has sparked the interest of many treasure hunters out there. Most of the buyers are in the range of 4/5 to 5/5 stars which means that this model is the right choice. If you have decided to take your hobby to the next level, you might want to know what some of your peers have to say about this device. After going over some of the online user reviews, we have compiled a list of benefits and disadvantages that should help you conceive a clear decision.

Pros:
High-end technology
Easy to use menu
Adaptable and flexible
Great for iron-infested grounds
Extended battery life
Excellent for deep searches
Light and comfy (only 3lbs.)
Cons:
A bit too noisy
Only suited for right-hand users
To be fair to the Makro Racer 2 manufacturers, the latter downside to this machine is not a complete deal-breaker. Makro's sister company, Nokta produces metal detectors for lefties. So, if you have really set your sights on this fortune seeker, you could try asking them for a model that suits your hunting preferences. A positive answer is not guaranteed, but it is surely worth the shot.
How much does Makro Racer 2 cost?
The current cost of the Makro Racer 2 Standard is just shy of $600, which is a reasonable price for a top-shelf metal detector. However, considering its high-end technology and the trust that most relic hunters have in the manufacturer, buying it at this price could be a real bargain.
An upgrade to the Pro version would set your budget back with an additional $200. Depending on your exploration rate and bounty value, you could opt for this package as well, and still get a good deal. However, if you are an occasional metal seeker, you might want to stick to the standard version for now.
My conclusion about Makro Racer 2 Standard
The Makro Racer 2 Standard metal detector is a high-quality tool for finding coins, jewelry, and other metal valuables. Its versatility and power allow you to look for lost artefacts in a broad variety of challenging terrains and underwater muck.
The long battery life and ease of use will keep you out in the field for hours without having to take a recharge break or struggle with the display menu. Should you get used to its sometimes noisy functioning and not mind using only your right hand to hold it, you will find that there are no downsides to the Makro Racer 2.
If you want to be ahead of the game and take your metal detecting performance to the top, you must make the Makro Racer 2 your first and foremost exploration tool!