Fisher Metal Detector Pinpointer Review
[amazon box="B000W3X78W" reviews="none" store="co.uk" template="vertical"]
Hunting for treasures has never been smoother than with the Metal Detector Pinpointer from Fisher Labs. This tool uses state of the art technology to identify metal pieces with maximum accuracy. Its' easy-to-use features, one button design, and static mode make it the ideal tool for hobbyists or homeowners that need to find lost metallic objects.
Why choose this Metal Detector Pinpointer
I will consider this pinpointer as an entry level and it didn't make it in my top list of pinpointers article mentioned on my website. This pinpointer is perfect in case you are looking for coins or larger items but compared to other "professional" ones it lacks the power to detect at bigger depths.
Anyone that loves to have a bit of adventure in their spare time should keep a metal detector handy. If your passion is to explore and look for lost metal artifacts, then you should opt for the Fisher Metal Detector Pinpointer. This gadget measures almost 25cm in length and it comes with a sturdy, black handle that makes it easy to operate.
When it comes to close-up work, you cannot do better than the Fisher Labs' Fisher Metal Detector Pinpointer. The company's rich experience of more than 80 years in metal detecting is ever-present in a top-shelf detector that can pinpoint buried metals of up to 5cm in size. It also runs on a 9V battery that should last you for at least 30 hours of continuous treasure hunting.
Special features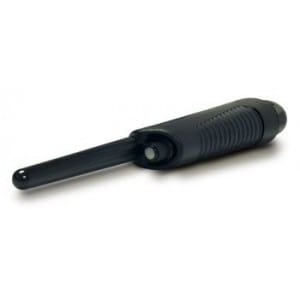 The Fisher Metal Detector Pinpointer is a cost-effective alternative to large, expensive metal detectors. Its main advantage is given by the Surface-Mount Technology that it uses to eliminate all mineral content in the soil.
The static mode feature allows it to differentiate better between conductive metals and magnetic ones. This technology benefits urgent explorations by saving you a lot of time and effort on useless diggings. The signal tone on the Fisher Metal Detector Pinpointer will only activate when it encounters precious metal pieces like silver and gold artifacts.
Fisher Metal Detector Pinpointer downsides
Unfortunately, the Fisher Metal Detector Pinpointer is not perfect. Several users have complained about its restricted operation radius, which sometimes requires you to be right on top of the metal piece for you to hear the signal tone. Therefore, if you have a large area to explore with numerous possible findings, this gadget is probably not the optimal tool for the job.

Pros
Easy to use
Surface-Mount Technology
Durable battery
Static mode
Simple to store
Cons
Small operation radius with the size of a coin
Requires 9V battery
Conclusion about Fisher Metal Detector Pinpointer
The Fisher Metal Detector Pinpointer is ideal for short, occasional metal hunts on a small perimeter. Its ability to single out precious metals can give you a significant advantage when looking for specific artifacts. Also, you can use this tool in your home, garden or garage to look for lost metal pieces, jewelry or tiny metallic objects. The 30 + hours battery autonomy should last you long enough to find even a needle in a haystack if your patience also allows it.
All in all, the Fisher Metal Detector Pinpointer does exactly what it says: it pinpoints to small metal pieces. If you can get around the fact that you will need to be quite close to a buried metal piece to discover it, then this is the perfect metal detecting tool to keep within easy reach.